Quality
It has been requested that this article may require cleanup to meet the quality standards of this wiki. Specifically:
Abandoned/unorganized attempt at group project, blurring line between fanon DB content and story content. May be moved to a subpage or blog.
Please improve this article if you can.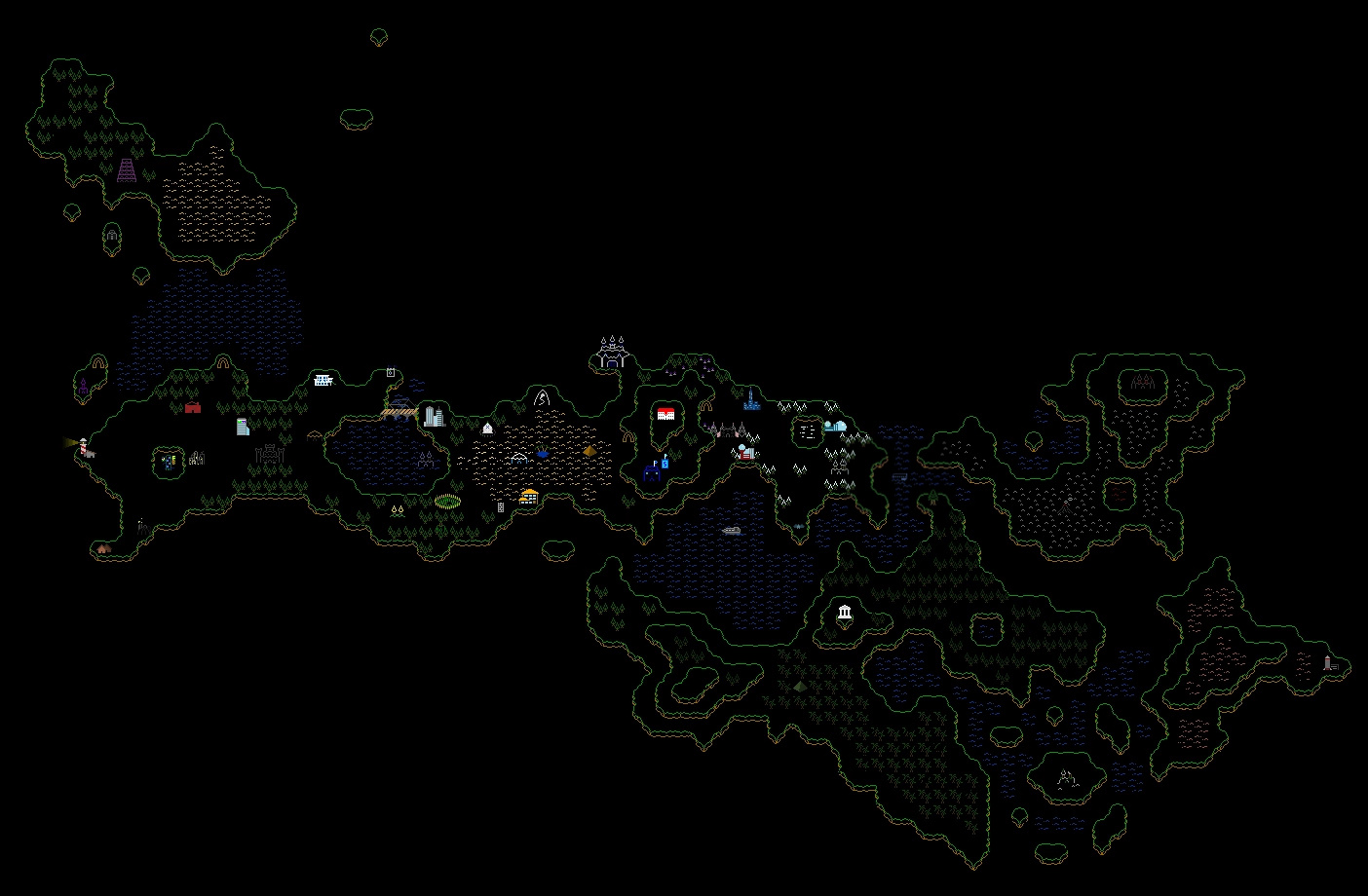 Bizarro World
Recent Updates
Most recent found at the bottom for your convenience.
Map extension/start of additions
Alkate's Crop-field (South-West of the Desert Series)
Assorted big mushrooms (Scattered at the East and North side of the Mountain)
Iamlevel (Near Beach 2). He might leave though. If you ask nicely.
Uninhabited underwater tree (Near Submarine Shrine)
Steroid Tree (South-East of Cavern 1)
Onyx Portal (West of Ao Oni's Mansion)
The Fan-Ball hotel (In the Lake)
Giant mushroom forest
Map extension (with the addition of CV4)
The 'Fan Portal' (In the GIANT mushroom forest)
Seashore Base (Below right side of island)
Temple of the West
Factory (under the south coast)
Nuclear Power Plant (near Opening Street)
Future Sight for Mushroom Mountain (East or SW of Lake, not sure,)
New Hub City (Peninsula Northeast of SSh)
New Map Extension (Snowfield 9 Update)
Popetipap's house (East of Frozen Lake)
Route extension (ver13.7)
Major revision- see image description for details.
Greytown (East of Lake)
Properties
DMSwordmaster's
DMSwordsmaster's Crater/Pile of Rubble (Formerly his Castle)
DMSwordsmaster's Seashore Base (New home, base for army)
DMSwordsmaster's NEW castle
Soon to come- DMSwordsmaster's summer resort (Beach 3 island)
ZoshiX's
Zoshi's House (North-West of Seaside 3)
Commandant SixFour's Base (Snowfield Area)
Lazro's
Lazro's Shack (Near Forest 1)
HankGuideDude's
HankGuideDude's Hive (On the island where the Village is)
The Great Mithril Isle (with a connecting chain)
Gamelover101's
David's
David's Sunken Castle (Due to inactivity and swamp soil).
Samuel17's
Samuel17's House/Semicastle (Right of Mountain 2)
Samuel17's Base (Northeast of the house)
Samuel17's Hidden Castle (right of ???, in the tree forest, well hidden)
Wheel Core (Roaming around, though mostly around the mountain)
Iamlevel (Right of Beach 1, tends to move around a bit but usually stays there)
Ao Oni's
Ao Oni's Mansion (At the peak of the mountain)
Ludicrine's
LD's Home (Right of Seaside 2)
LD's Inconspicuous Tree Cannon (Completely hidden, yup yup.)
Waddle D33's
Waddle D33's Castle (North-West of Ao Oni's Mansion)
Waddle D33's Silo (East of Zoshi's House)
Ivan247's
Ivan247's House (Near the Oasis)
ThechosenOne's
Caagr98's
What steroid tree? What pumpkin?
Popetipap's
Popetipap's house (East of Frozen Lake)
Poisonshot's
To be added
Drowsy Stumps (SOMEWHERE) (General)
Helicopter 1 (Drowsy Stumps <-> Town) (Transportation)
Helicopter 2 (Drowsy Stumps <-> Castle Gate) (Transportation)
Helicopter 3 (Drowsy Stumps <-> Cavern 1) (Transportation)
Helicopter 4 (Drowsy Stumps <-> Anywhere) (Expensive Transportation)
Community content is available under
CC-BY-SA
unless otherwise noted.