Imagine here your Stick Ranger game. (What?)
Stick Ranger Wii U
Stick Ranger for the Wii U? This will be cool! First the game will be in 3-D!
Towns
Town
Resort
Village
Camp
Pet Zone
Shops
Weapons Shop
Compo Shop
Junk Shop
Pet Shop
Breed Shop
INN
Pet INN
Stock Shop
Series (not in order)
All original stage series
Gameplay
There is only one Stickman. Walk around using the Directional Pad. Use 2 to attack and 1 to jump.
If you have a nunchunk, you can play with two player. Player 2 will use the Joystick to move, Z to attack and C to jump.
Both players may as well use a Wii U tablet.
Stick Ranger for the I-Pod/I-Pad
Gets updates when Dan-Ball gets updates.
Stick Ranger Tower Defense
A tower defense game based on Stick Ranger. Updates in the same time as original Stick Ranger.
Gameplay
Player buy Stickmans with a certain weapon, and on the top appears enemies. Enemies can damage stickmans and destroy them, so be careful. With out-game money, you can buy new weapons and compos.
Like this:
Anti-SR Tower Defense
Credits Samuel17 entirely. The story is that the Castle Boss has been kidnapped! Save it!
King
Green Smiley Walker
Blue X Walker
Green Skull Snake
Red Skull Snake
Unit
Brown X Walker: Main unit.
Purple X Walker: Has a more fast AGI.
Grey X Walker: Shot 4 ball.
White Boss X Walker: Shot a big ball.
Green Cap Mushroom: Can Poison.
Purple Cap Mushroom: His Poison more powerful.
Green Boss Cap Mushroom: Shot 10 ball!
Purple Boss Cap Mushroom: Shot a ball that make poison.
Red Skull Stickman: Shot a ball that release fire.
Sub-Castle Boss (The Special): Shot a Huge Arrow!
Enemies
Tan Stickman
Brown Stickman
Tan Zombie
Green Zombie
Brown Zombie
Tan-Green Zombie
Brown-Green Zombie
White Skull
White-Black Skull
White Skeleton
White-Black Skeleton
Tan Boss Stickman
Stage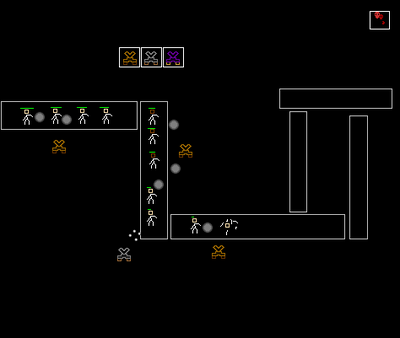 Castle Gate
GL1
GL2
GL3
GL4
GL5
GL6
F1
F2
CV1
CV2
CV3
Boss Stage 1 (Village)
Credits
Poisonshot
Page creation
Stick Ranger Wii
Samuel17
Stick Ranger Tower Defense
See also