Canon Weapons
Fanon Weapons
A weapon in Stick Ranger is an item used by characters to attack, which in turn can progress through the game. [Read more]
Notes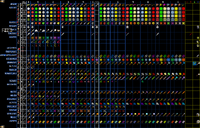 All weapons listed here are fan-made.
A weapon level of ? indicates that the creator did not include one, but is implied to have one (weapons with an intentional lack of level are most likely starting weapons).

Some weapons use the following system to mark levels above 9: S-S9-SS, X-X9-XS-XX, D-D9-DS-DX-DD, L-L9-LS-LX-LD-LL.
Weapons obtained from chests use the letters H, C, G, and T as their levels.

Some weapons are considered Composite Weapons, weapons that can be wielded by two classes or more.
See also
Community content is available under
CC-BY-SA
unless otherwise noted.