Ivan's Mod is a modified version of Stick Ranger created by
Ivan247
.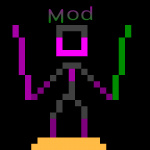 Officially simply titled "Stick Ranger Modded," this version of the game is one of the first known instances of a playable, modified version of Stick Ranger. Its creator, Ivan247 (along with Dan-Ball Wiki user Eashy) helped pioneer the discovery of information that would make Stick Ranger modding more accessible, and eventually used this knowledge to create his own mod.
Overview
Ivan's Mod is based on the vanilla version of Stick Ranger, but has plentiful additions that extend gameplay beyond the previous boundaries. Included in the mod are new classes, weapons, items, stages, enemies, and other elements. The mod is fully playable and is updated every so often. The most current update is version 7.7.
This mod is no longer available due to controversies on matters involving file redistribution forcing the creator to cease mod distribution.
Community content is available under
CC-BY-SA
unless otherwise noted.