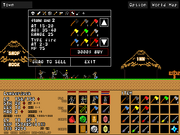 See former discussion about this class.
The Lumberjack is a fictional melee class for Stick Ranger. This class utilizes two different kinds of weapons, both of which are melee.
Stats
Stat
effect per SP invested
LP
Axe
Saw
LP

no effect

+10
STR
AGI is reduced in relation to the following formula:
AGIequipped = AGIweapon/(1+(STR × 0.02))
Max AT + 1/10
+4
DEX

Character Speed +2%

+2
MAG
+ 1 MP gain per hit with magical weapon
+2% Fuel
+2
Weapons
Trivia
It is one of the few classes to use more than one kind of weapons.

The Lumberjack will always begin with an axe, whereas the saw can only be purchased from the shop.

This class can naturally increase Speed.
The two basic stats; STR and MAG reflects on the weapon kind.
Credits
HankGuideDude - Class (re)creation
ZoshiX - Improvement
NNW - Improvement
ThechosenOne - Improvement
Ivan247 - Improvement