The Onigiri Summoner is a fantasy charecter in Stick Ranger. This class is somewhat like the Healer Class. Unlike the Healer, it has other features that give it different abilities from the Healer, like creating Onigiri.
| | | |
| --- | --- | --- |
| Stat | Effect per SP used | LP |
| LP | No Effect | 6 |
| STR | Increases Onigiri drop chance by 0.5% (Max of 35%) | 2 |
| DEX | Decreases AGI by 2.5% (Lowest AGI is 20 - 40) | 2 |
| MAG | Used for magical attacks | 2 |
The Onigiri Summoner uses Plates to attack. Unlike Healer, it's attacks are stronger but is a melee class with low range (Diffrent plates are bigger but dreatfult is 15). Note: This class is kinda USELESS in Vs. Mode because Onigiri cannot be made in battle. It's damage might be what you want in Vs. Mode.
Sadly, due to how strong this can be, monsters have a chance to target the stickman. It also is one of the weakest in LP. Investing SP on it will only add 6 while other stats add 2 AND the Stickman starts with 35 LP instead of 50. You might want to use a Defender with this class to keep the stickman alive longer. You can also add white crystals, White Stone, a Healer or a Priest for backup. This does stack with the Onigiri Card for a max of 55% chance of Onigiri! Note: At the start of the game, Onigiri drop chance is set at 2%. The stickman also holds a plate without anything. Once an Onigiri is produced, it stays on the plate for a second, then is throw off the plate, allowing anyone to eat it for LP. Disclaimer: When you upgrade your Onigiri drop chance, the drop chance of a Red Onigiri is increased by 0.05%. Red Onigiri is the same as Onigiri, only it instant kills your stickmen instead of healing them and sometimes bounces closer to them. (Helps keep game balanced).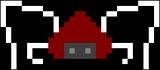 The Summoner will start to retreat behind someone nearby when it has less than 5% of LP. "Move of dying" will not change this. If nowone is nearby, the Summoner will not attack as fast and will run around until it is behind someone. Due to this reaction, it is not a good idea to have a party with more than 1 because they will be making and endless cycle and will eventually be killed. Do this at your own risk.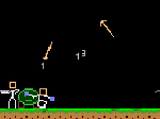 Credits
ZoshiX: Improvements
Community content is available under
CC-BY-SA
unless otherwise noted.