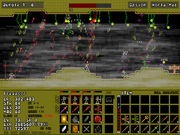 The
Predator
is a fictional class in Stick Ranger. It attacks with blowguns and could be considered as a fusion between a Sniper/Gunner and a Priest.
Stats
| Stat | effect per SP invested | LP |
| --- | --- | --- |
| LP | no effect | + 7 |
| STR | Critical AT +5% in 10% chance | + 3 |
| DEX | Min and Max AGI -1 (Min 30-40) | + 3 |
| MAG | + 1 MP/hit; War Cry AT +5% & DF +1, Yellow Aura | + 2 |
Weapons
War Cry
War Cry is the Predator's special ability. Like the Priest's aura, it directly increases AT% and DF to its allies, but it can only be used when the Predator is wielding the Scary Blowgun or any of its variations.
It increases the AT by 5% and DF by 1 per single MAG; essentially 5 times as efficient compared to the Aura. It automatically creates a yellow-colored aura when activated and can be stacked with the Priest's aura to combine the two; Technical section will be expanded later.
It will always last for a minute, even going through screens, but reset when exiting stage.
Trivia
This class can naturally increase Critical AT.

The critical chance occurs 10% of the time, which can also be stacked with the Critical's Card compo.

This class, although can use magic, has only one restricted magic attack: The War Cry.
Credits